What is Trench Camp
Trench camp is a 3-day high school football camp dedicated exclusively to the most important part of any football team, the offensive and defensive linemen…the guys in the trenches.
When is Trench Camp?
Trench Camp takes place July 14-16, 2023.
Where is Trench Camp?
Trench Camp takes place at McCulloch Stadium at Willamette University in Salem, OR.  The address is 890 Mission Street, SE in Salem.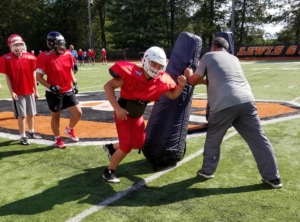 What makes Trench Camp different?
Trench Camp is coached almost exclusively by former NFL players. Our coaches have a unique perspective on what it takes to make an exceptional linemen and we'll work with each and every camper to make sure they get the most out of every minute they're on the field.
Who should attend Trench Camp?
Any high school freshman, sophomore, junior or senior who wants to take their O-D line skills the next level. Whether you're looking to make the first team varsity squad or you want to make an impression on college recruiters, Trench Camp is for you.
How much is Trench Camp?
Trench Camp is $440.00 for an individual registration and $340.00 per person for a team registration. A team is 4 or more players from the same team attending the same camp and must be approved by Trench Camp staff. A limited number of full tuition scholarships are available.
What does the Trench Camp daily schedule look like?
Friday:
9:00 AM – 10:00 AM     Registration
10:00 AM – 1:00 PM     Session #1
1:00 PM – 2:00 PM     Lunch
2:00 PM – 4:00 PM     Session #2
Saturday:
9:00 AM – 12:00 PM     Session #1
12:00 PM -1:00 PM     Lunch
1:00 PM – 4:00 PM     Session #2
Sunday:
9:00 AM – 12:00 PM     Session #1
12:00 PM – Camp Completed.  T-Shirts distributed, pictures and autographs
How do I sign up for the team rate?
In order to qualify for the team rate, at least 4-players from the same school must attend the camp. In addition, we need an email from your coach/booster club leader/parent in charge with a list of the players that will be attending BEFORE they register for the team rate. If a player registers at the individual rate and later finds out that a team rate was submitted they are NOT subject to any type of refund of the individual rate under any conditions. Emails should be sent to [email protected].
Who coaches Trench Camp?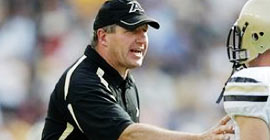 Trench Camp Head Coach is Stan Brock. Stan is a Portland, OR native, and played high school football at Jesuit High School. Stan was First Team All-American at the University of Colorado, and played 16 seasons in the NFL.
Neil Elshire is a University of Oregon alum, and had an outstanding pro career playing defensive end with the Minnesota Vikings.
Kevin Gogan won 2 Super Bowls with the Dallas Cowboys in the 90's and was a 4 time Pro Bowl selection.
Guy McIntyre a three-time Super Bowl Champion with the San Francisco 49ers.
Manu Tuiasosopo was the number one pick of the Seattle Seahawks in 1979 and an 8-year NFL veteran. He finished his career with the San Francisco 49′ers in 1986. He was part of the 49'ers winning Super Bowl team in 1995.
(Please note that not all coaches may attend all camps)
What do I need to bring to camp?
Campers should bring their own shoes, shells (shoulder pads and helmets) and mouthpiece. The camp will not be offering any type of rental equipment so it is mandatory that you supply your own. If you do not have the above items you will not be able to participate in Trench Camp. You are no longer required to print out the Trench Camp Consent Form as you now agree to our Terms and Conditions when you register online. You are required to bring a copy of proof-of-insurance. Without proof-of-insurance your camper will not be allowed to participate.
How are positions assigned?
Since the coaches of Trench Camp feel it's important to understand strategy on both sides of the ball, campers will learn the fundamentals of playing both the offensive and defensive lines.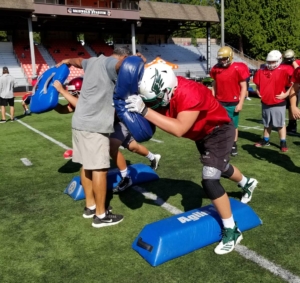 Can I register for camp on site?
No, due to the high volume of registrations and to keep our promise of making sure our coach-to-camper ratio is low, we will not be accepting on-site registrations the day of the camp. You must sign up in advance and online to register for Trench Camp.
Will food and beverages be provided?
We will provide plenty of Gatorade and water, campers will be responsible for their own lunch on Friday and Saturday.
Can parents/friends/relatives watch the camp while in session?
Yes. FOR PARENTS ATTENDING TRENCH CAMP: Parents will only be able to view the camp from the stands or track. No parents will be allowed on the field, only coaches with pre-approved status and lanyards assigned by Trench Camp will be able to get on the practice field.
Will there be a trainer on site?
Yes. We will have a certified athletic trainer on site at all times along with all the necessary equipment to handle a multitude of minor injuries. In the event of a major injury, the participant will be required to go to the hospital of their guardian's choice.  We have an approved emergency plan in these rare cases.
Will this be a full contact camp?
Yes,  Our Salem, OR camp will be a full contact camp so helmets and pads are required.
Will this be an overnight camp?
No. Trench Camp is a day camp only. Participants will need to acquire local accommodations if they are coming from out of town. Local campers should arrive no later than 8:45 AM each morning and plan on being at the camp until 4:00 PM each evening. The final day of the camp is a half-day session that should finish up by noon.
Have a question you didn't see answered here? Contact us.